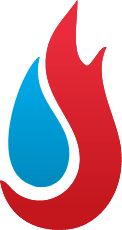 Your Home. Our Purpose
Frozen and Burst Pipes
Frozen and Burst Pipe Restoration in Northwest Indiana and Chicagoland Area
We'll take care of your Frozen
and burst pipe cleanup needs
Pipes don't freeze, but the water inside them may. When temperatures plummet, the water expands as it turns into ice and could exert enough pressure to rupture a pipe wall or break apart a pipe joint. Such leaks, if undetected right away, can cause significant damage to floors, carpeting, drywall, and fiberglass insulation.
Burst copper pipes used to supply water to plumbing fixtures or to circulate water to baseboard radiators are common sources of major leaks. Pipes may also burst for reasons other than freezing, such as when a carpenter accidentally drives a nail through one, but freezing is the most common cause of pipe leakage. When leaking or burst pipes strike, Stash Property Restoration is the company to call to dry out, clean up, and restore your living space.
Stash Property Restoration is Chicagoland and Northwest Indiana's leading water damage repair and restoration company. We have the expertise and equipment to handle a variety of water-related disasters, including burst pipes, clogged drain overflow and flooded basements. Call or email us today to schedule an estimate for water damage restoration in Portage, Lake Station, Chesterton and nearby.
Insufficient insulation
Insulation that has been damaged or dislodges
A malfunctioning heating system, typically while homeowners are away
Corrosion, typically at a soldered joint
Damage to a pipe during remodeling activities
---
As water freezes, it expands about 10 percent in volume. That pressure can cause a rupture.
Free Estimate
Get your home fixed fast with our professional disaster restoration, remodeling, and roofing services.
What to do

when your frozen pipes burst
There is a very distinctive sound to pipes freezing. It can best be described as a bang or clang. The sound is caused by water suddenly expanding into ice at the moment it freezes. It may not be accompanied by the sound of running water because, for a time, the ice will prevent leakage from occurring. When this happens:
Turn off the main water valve immediately.It is typically located in a basement or utility room. Fast action can minimize damage from a burst pipe.
Call Stash Property Restoration right away. We have operators standing by 24/7. Instead of getting a recorded message, you can talk to a real person about your emergency. Our emergency crews are usually able to respond within 2 hours and handle the burst pipe clean up and restoration process.
If the ice in the pipe has thawed and water is flowing into your home:
Note where the sound of running water is coming from.
Shut off the main water valve, if you can do it safely, and call Stash Property Restoration. Don't take safety risks when you have flooding due to a burst pipe. Contact with an electrical switch or device while standing in water can cause shock or electrocution. It's better to wait for Stash Property Restoration technicians to arrive to ensure safe water removal and water damage repair.
Move valuable items. As long as you can do so safely, move items that are wet or may be damaged by standing water. You can relocate these items to a dry area and take steps to clean and dry them out.
Keep your home protected and looking great

with your local contractor today
At Stash Property Restoration, we care about keeping your home looking and functioning the way it's supposed to. Whether you need anything from a small roof repair to a complete disaster restoration, we will be there for you with quality products, skilled craftsmanship, and fantastic customer service.
To learn more about our services and get a free estimate, call or email us today! We proudly serve in Portage, Chesterton, Valparaiso, Crown Point, Dyer, East Chicago, Michigan City, Hammond, Highland, Munster, Schererville and throughout the surrounding areas.